India is called the land of festivals. In India, there is a festival in each month. Indians love festivals and festivals mean happiness, new-dresses, and tasty-food. Some festivals are celebrated by the whole country while some are region-based. Broadly, Indian festivals are categorized into three groups:
National Festival like Republic Day, Gandhi Jayanti, Independence Day, etc
Religious Festival like Diwali, Holi, Eid-Ul-Fitr, Gurpurb, Christmas, etc and
Harvest Festival like Onam, Pongal, Bihu, Baisakhi etc
Let's learn more about Indian Festivals while answering to the following questions. Answers of the questions are provided at the end of the article. Option to print or making is also provided at the end.
Worksheet on Indian Festivals
Q1. Write true and false for statements related to festivals of India
Deepawali means 'row of lamps'.
In Andhra Pradesh, the harvest festival is called Pongal.
Mahatma Gandhi is called the brother of the nation.
Navroz is celebrated by the Parsi community.
The Golden Temple is at Ambala.
Children dress up as Santa Claus to celebrated Christmas.
Indian Republic Day celebration is held at Rajpath in New Delhi.
Indian Independence Day is celebrated on the day of 26 January.
People draw kolams to decorate their houses for celebrating Pongal.
Muharram is celebrated by people of the Muslim religion.
Independence Day of India is celebrated at Red Fort, New Delhi.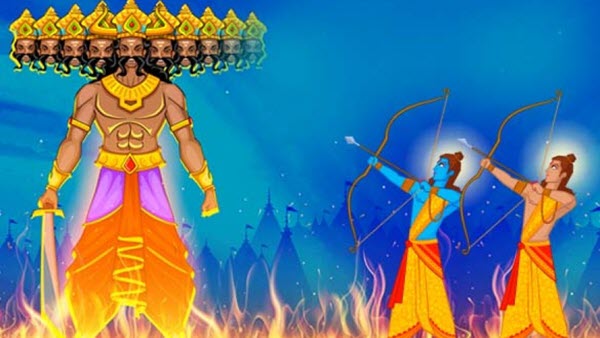 Q2. Choose the correct option to fill the blank spaces check your knowledge of Indian Festivals
1.__________________ is prepared on Eid-ul-Fitr.: a. Srikhand     b. Kheer         c. Sewain
2.________________ is called the festival of colours.: a. Holi          b.Diwali      c.Bihu
3. Teacher's Day is celebrated on the birthday of ____________: a. Mahatma Gandhi      b. Jawaharlal Nehru     c. Radhakrishnan
4._______________ festival is called the 'festival of light'.: a. Holi    b. Diwali      c. Dussehra
5. The holy book of the Sikhs called__________.: a. Guru Granth Sahib b. Koran c. Gita
6._______________ is celebrated by Christians as the birth of Jesus Christ.: a. Christmas     b.   Easter    c. Eid-ul-Fitr
7._______________ is celebrated to mark the end of a month long period of fasting.: a. Gurpurb    b. Eid-ul-Fitr       c.Navroz
8.____________ is the festival which marks the end of Navratri and Durga Pooja in India.: a. Dussehra b.Holi c. Janmashtami
9. In Baisakhi festival, men perform the ____________to the beat of the Dhol.: a. Giddha b. Bhangra c.Bihu
10. Children's Day is celebrated on the birthday of ____________. a. Mahatma Gandhi b. Jawaharlal Nehru c. Radhakrishnan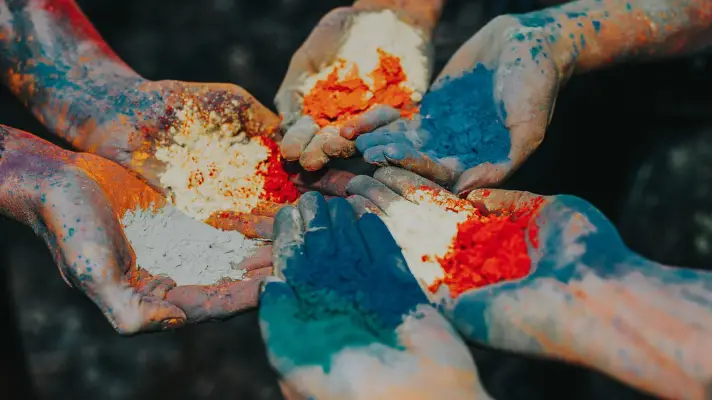 Q3. Match the following religious Indian festivals with their state.
| | | |
| --- | --- | --- |
| SR NO | Festival | State |
| 1. | Krishna Janmashtami | a.Maharashtra |
| 2. | Durga puja | b. Uttar Pradesh |
| 3. | Ganesh chaturthi | c. Rajasthan |
| 4. | Gangaur | d. West Bengal |
Table: Indian Festivals
Q4. Choose the correct answer to the following festivals.
Flamingo Festival is organized in which place?

Telangana 
Karnataka
Nagaland
Andhra Pradesh  

 Which season does Holi bring to India?

Spring
Summer
Winter
Rainy

Bihu is the harvest festival of

Assam
Arunachal Pradesh
West Bengal
Manipur

In the month of February which city hosts the Kala Ghoda Art festival?

Jaipur
Kolkata
Mumbai
Bengaluru

Alta Taddi is celebrated in which state?

Karnataka
Maharashtra
Jharkhand
Andhra Pradesh

Chapchar Kut festival is celebrated in which state?

Mizoram
Assam
Manipur
Meghalaya

The Festival of Baisakhi comes in which month?

April
February
January
March

The festival of Dussehra comes in which month?

Jul-Aug
May-Jun
Nov –Dec
Sep-Oct

Which harvest festival is called 'Festival of flowers'?

Pongal
Bihu
Baisakhi
Onam

What is Vallamkalli?

Car race
Boat race
Horse race
Camel race

In which festival people draw rangolis and Lakshmi, the goddess of wealth, is worshipped?

Dussehra
Diwali
Holi
Durga Puja

In which state of India, Chhatth  Puja is prominently celebrated?

West Bengal
Punjab
Bihar
Assam
Answer Keys for above-mentioned Indian Festivals Worksheet:
A1. 1. True, 2.False, 3.False, 4.True, 5.False, 6. True, 7. True, 8. False, 9. True, 10. True, 11. True
A2. 1. C, 2. A, 3. C, 4. B, 5.a, 6.a,7.b, 8.a, 9.b, 10. b
A3. 1. b, 2.d, 3.a, 4.c,
A4. 1. 4, 2. 1, 3. 1, 4. 3, 5. 4, 6. 1, 7. 1, 8. 4, 9. 4, 10. 2, 11. 2, 12. 3.